IoT4CPS - Trustworthy IoT for CPS
The focus of IoT4CPS will be on developing, producing and operating, highly trustable components and applications for Connected and Automated Driving.
Short Description
Background
Digitalization over the entire product lifecycle accelerates the development, validation, instrumentation and deployment of complex industrial products while increasing product quality.
The digitalization and increasing connectivity of (critical) cyber-physical objects enables development of new applications but also leads to new safety & security related requirements in the design, testing, production and operation of these systems.
Realising in a cost-effective way, the full potential of trustworthy and secure cyber-physical systems and applications in Automated Driving and Industry 4.0, will require a holistic approach that combines operational aspects as well as the technology. The objective is to integrate security levels across all dimensions in order to
a) ensure trusted interaction across devices, machines and networks;
b) maintain integrity, authenticity and confidentiality of information; and
c) sufficiently protect production data and intellectual property.
The integration of appropriate security levels should provide ease of deployment and it should neither be detrimental to performance nor compromise user experience. Tailored security functionality should be provided in order to optimise performance and cost.
IoT4CPS will develop guidelines, methods and tools to enable safe and secure IoT-based applications for automated driving and for smart production.
The project will address safety and security aspects in a holistic approach both along the specific value chains and the product life cycles. To ensure the outreach of the project activities and results, the relevant stakeholders will be involved throughout the project and results will be disseminated to expert groups and standardization bodies.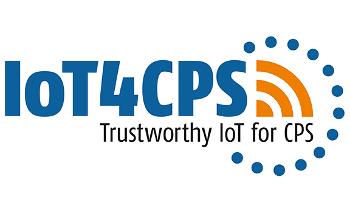 IoT4CPS
The focus of IoT4CPS will be on developing, producing and operating, highly trustable components and applications for Connected and Automated Driving. As the design and production of these components requires a high degree of integration and information exchange along the life cycle, the methods and tools investigated are also highly relevant for the Smart Production use case.
In this second use case, however, rather than considering the full bandwidth of Industry 4.0 applications, we focus our scope on the subset of the value chain that is linked to the main use-case.
IoT4CPS will follow the ubiquitous security paradigm and address the entire technology stack from semi-conductors (sub-component level), via control systems (component level), to applications (system level).
Additionally, specific aspects of accessing the surrounding infrastructures will be considered, as well. Orthogonal to the system integration level, IoT4CPS will address the product life cycle from development, via production to operational use.
Thus, IoT4CPS will support digitalization along the entire product lifecycle, leading to a time-to-market acceleration for connected and autonomous vehicles.
IoT4CPS will provide innovative components, leading to efficiency increases for the deployment of level 3 and level 4 autonomous driving functions, which will be validated in a vehicle demonstrator.
The convergence of industry 4.0 and autonomous driving as promoted by IoT4CPS shall result in a competitive advantage for the Austrian region with respect to the development, validation and instrumentation of innovative components and solutions for connected and autonomous vehicles and smart production environments.
Project Partners
Consortium Manager
AIT Austrian Institute of Technology GmbH
Further Project Partners
AVL
Donau Universität Krems
infineon
Johannes Kepler Universität Linz
Joanneum Research digital
Nokia
NXP
SBA Research
Siemens
Salzburg Research
Softwear Competence Center Hagenberg
TTTech
TU Graz
TU Wien
X-Net Services GmbH
Contact Address
AIT Austrian Institute of Technology GmbH
Giefinggasse 4
A-1210 Wien